School Anthem
O let our youthful voices ring
With all their joyfulness
In praise and gladness let us sing
Of Paya Lebar MGS (2*)
Here we may seek all wisdom, truth
And ways of kindliness
Through all the years of golden youth
At Paya Lebar MGS (2*)
So when we leave its shelt'ring walls
We go with fearlessness
Enriched to face life's greatest call
By Paya Lebar MGS (2*)
Lord bless our school our dear PLMGS
With peace and love and joy and grace
Our PL-Lites we send to lead and bless
From Paya Lebar MGS (2*)
(This new Stanza is written for PL100 by Mrs Winnie Tan, 
Principal 1972-1997)
Now let us pray and learn and trust and obey
To serve Him in every way
Glory to God we give and pray
For Paya Lebar MGS (2*)
Our School
Our school is the place I love the best
For our school isn't like all the rest
For our love makes something special
Out of our school everyday
At our school we are taught to obey
And our school is a church where we pray
For God's love makes something special
Out of our school everyday
And Chapels every Wednesday
Are best of all to me
For we are all together
Just the way we like to be
Yes our school is filled with laughter and play
And our school is where I want to stay
For our love makes something special
Out of our school everyday
For our love makes something special
Out of PL everyday
PL Hymn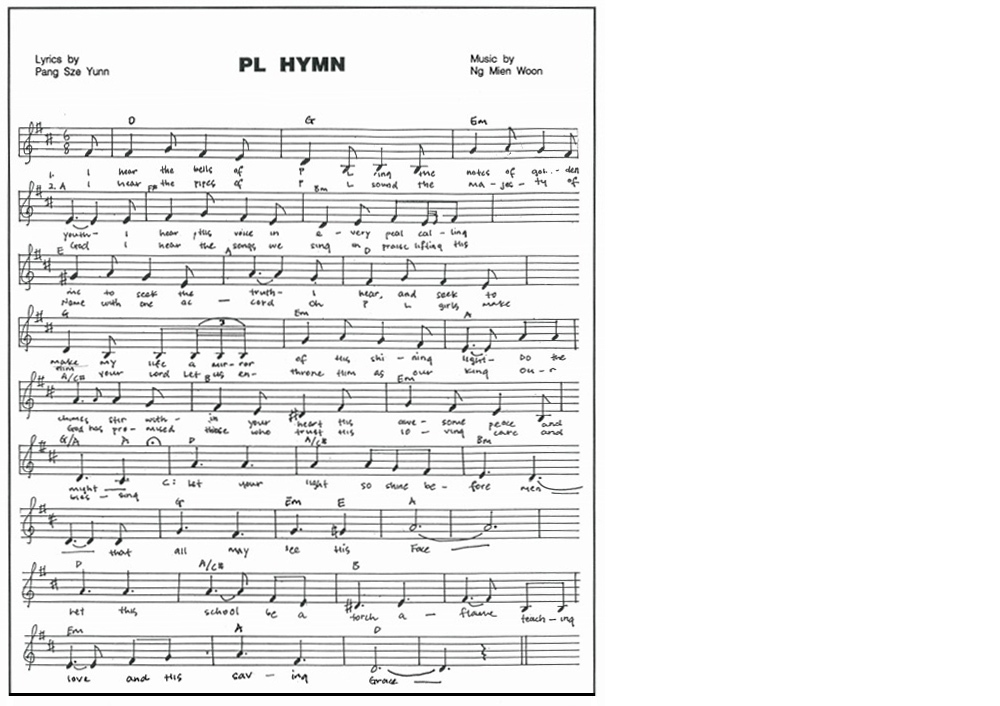 I hear the bells of PL ring
The notes of golden youth;
I hear His voice in every peal
Calling me to seek the Truth
I hear, and seek to make my life
A mirror of His shining light,
Do the chimes stir within your heart
His awesome peace and might?
Let your light so shine before men
That all may see His face;
Let our school be a torch aflame
Teaching love and His saving grace.
I hear the pipes of PL sound
The Majesty of God.
I hear the songs we sing in praise,
Lifting His name with one accord,
O PL girls make Him as our King;
Let us enthrone Him as our King.
Our God has promised those who trust
His loving care and blessing.
School Creed
I would be true for there are those who trust me 
I would be pure for there are those who care
I would be strong for there is much to suffer
I would be brave for there is much to dare.
I would be friend of all, the foe, the friendless 
I would be giving and forget the gift
I would be humble for I know my weakness
I would look up and love and laugh and lift.
I would be prayerful through each busy moment 
I would be constantly in touch with God
I would be tuned to hear His slightest whisper
I would have faith to tread the path Christ trod.