Post Secondary Scholarships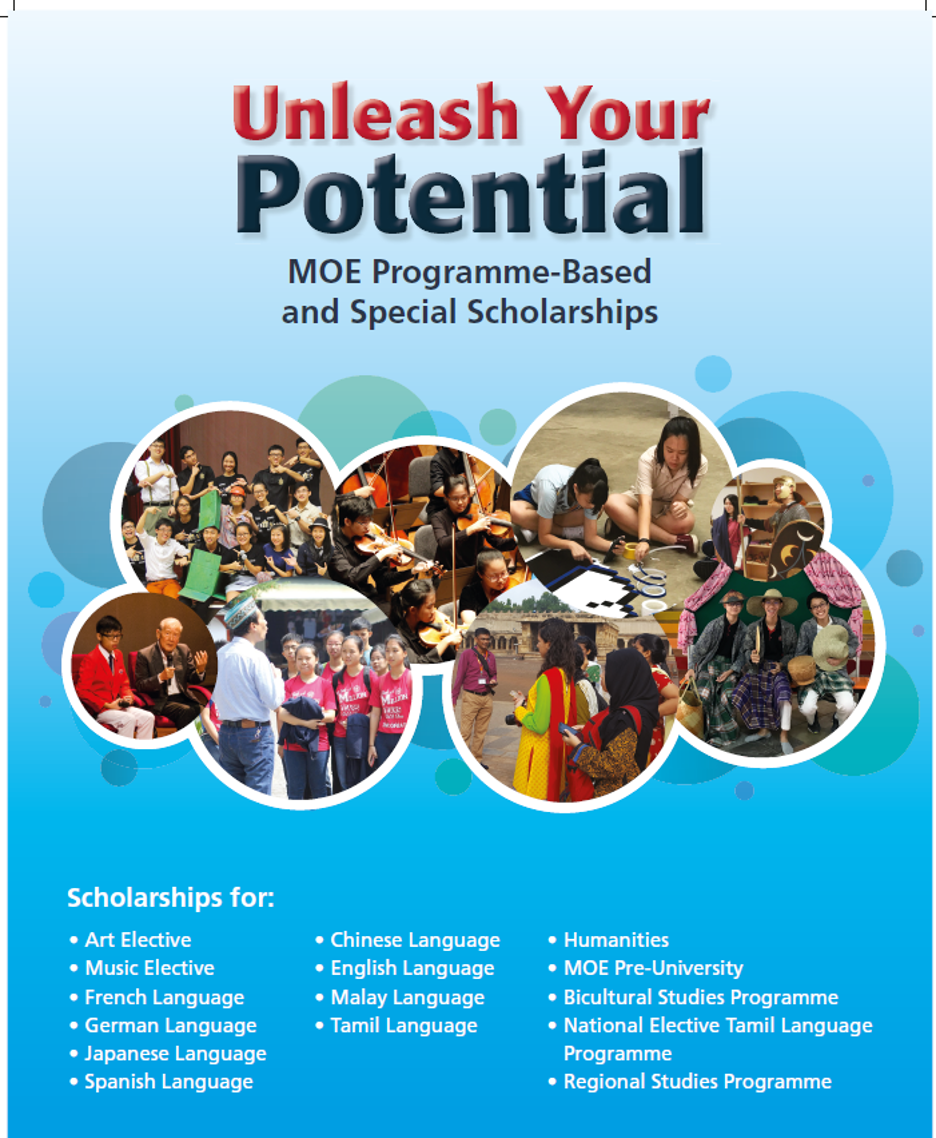 Express / NA Course students
MOE Pre-University Scholarships
The following MOE Pre-University Scholarships are open for applications for deserving students who completed O-Level
Art Elective Scholarship (AES);
Bicultural Studies Programme Scholarship (BSPS)
Humanities Scholarship;
Language Elective Scholarship (LES) (Chinese);
Language Elective Scholarships (LES) (English);
Language Elective Scholarship (LES) (French);
Language Elective Scholarship (LES) (German);
Language Elective Scholarship (LES) (Japanese);
Language Elective Scholarship (LES) (Malay);
Language Elective Scholarship (LES) (Spanish);
MOE Pre-University Scholarship;
Music Elective Scholarship (MES);
National Elective Tamil Language Programme Scholarship (NETPS); and
Regional Studies Programme Scholarship (RSPS)
Please click on this link for detailed information of the scholarships can be found in APPLICATIONS.
PL-Lites may apply for the above scholarships using their GCE O-Level Examinations results.
Interested students can access the online scholarship applications at https://www.moe.gov.sg/financial-matters/awards-scholarships.
For scholarship application, Students have to login to the application system using their valid Singpass.
For students without a SingPass account
Please note that the application for a SingPass account and the 2-Step Verification (2FA) takes between 7 to 12 working days. Students are reminded to factor this in to ensure that they do not miss the deadline. They need to apply for SingPass account/ID with their personal NRIC. Logging in through a third-party SingPass is not allowed and will render the application void.
Deadline for the online submission of scholarship applications are as follows:
Scholarship Scheme
Deadline for Online Submission
All Local Scholarships except Language Elective Scholarships
(Chinese, English & Malay) and NETPS
End February
Language Elective Scholarships
(Chinese, English & Malay)
End February
National Elective Tamil Language Programme Scholarship (NETPS)
Interested applicants are to approach Umar Pulavar Tamil Language Centre (UPTLC).
Selection Process
Students will be selected for the scholarship selection interview based on their GCE O-Level Examinations results. The scholarship selection interviews will be conducted from March to August. Interview details will be forwarded to candidates' email account one week before the interview date.
Other Scholarships
NT Course students
There are various scholarships to outstanding local NT course students at the Pre-University levels.
https://www.ite.edu.sg/admissions/scholarships-awards-and-bursaries/scholarships
These include the following:
ITE Community Scholarship

• Open to Singaporean school leavers who have enrolled into full-time Higher Nitec and Nitec courses
• Are in the top 10 per cent of the GCE 'N'/GCE 'O' level entrants at each intake exercise.
• See more at:

https://www.ite.edu.sg/docs/default-source/scholarships-awards-busaries/cdc_25mar20.pdf?sfvrsn=6397a481_2
BCA-Industry Built Environment ITE Scholarship
• See more at:


http://brightsparks.com.sg/profile/bca/scholarships.php?&schid=7536&
Nursing Sponsorship for NITEC in Nursing
• Gain admission to the NITEC course at ITE Simei
• 3 'N' Levels or 2 'O' Levels passes
• Possess a good co-curricular activities (CCA) record
• Have a passion for public healthcare sector
• Demonstrate strong leadership qualities and excellent communication skills
• See more at:

https://www.ite.edu.sg/docs/default-source/scholarships-awards-busaries/scholarships-for-ite-courses_9jun2020.pdf?sfvrsn=f82709c2_2
SingHealth Nursing Sponsorship (NITEC)
• Good GCE 'N'/'O' Level Result
• Good CCA records
• Keen to have a career in the public healthcare sector as a nurse
• See more at:

https://brightsparks.com.sg/profile/singhealth/scholarship.php?schid=8629
Singapore Olympic Foundation-Peter Lim Sports Scholarship
• Good GCE 'N'/'O' Level Result
• Good CCA records
• Keen to have a career in the public healthcare sector as a nurse
• See more at:

https://sof.sg/scholarship/



Industry Scholarships For ITE Courses
ITE has a wide-range of scholarships and sponsorship awards offered by external organisations and companies. Scholarships are generally awarded to deserving students based on academic merit, a good track record in co-curricular activities, leadership qualities and special talents.
Students should apply for the scholarships at the respective ITE Colleges upon admission to the course. The list of scholarships offered for ITE full-time courses are given below:

• Association of Singapore Marine Industries-ITE Scholarship
• Association of Electronic Industries in Singapore Scholarship

• Borneo Motors Singapore Scholarship
• BCS-Industry Build Environment ITE Scholarship (offered by BCA)
• Certis CISCO Sponsorship Awards
• Conrad Centennial Singapore Scholarship
• ECDA ITE Training Award
• EIG Global Scholarship (Dermalogical)
• Energy-Industry Scholarship
• Estetica Scholarship
• FaithActs-ITE Scholarship
• Regent Singapore - a Four Seasons Hotel Scholarship
• Howe Yoon Chong (HYC) – Singapore Mass Rapid Transit Study Scholarship
• Howe Yoon Chong (HYC) - PSA Scholarship
• Ikeda Spa Scholarship
• Isetan Scholarship
• ITE-City Tours & Car Rental Scholarship
• ITE-Sentosa Development Corporation Scholarship
• ITE-WTS Travel & Tours Scholarship
• Les Amis
• National Parks Board and Landscape Industry Association (Singapore)
• National Precision Engineering Study Award
• NetLink Trust Scholarship
• NTUC FairPrice Scholarship
• Pink Parlour Scholarship
• PSA Engineering Nitec / Higher Nitec Scholarship
• PSA Operations Higher Nitec Scholarship
• Ramada and Days Hotel Scholarship
• Republic of Singapore Air Force Scholarship
• Republic of Singapore Navy Military Domain Experts Scheme Study Award
• Resorts World Singapore Skills Scholarship
• Roche Scholarship
• Rolls-Royce Scholarship
• SATS Scholarship
• SCDF Home Award
• Singapore Olympic Foundation - Peter Lim Sports Scholarship
• Singapore Technologies Aerospace Scholarship
• SPRING SME-Talent Programme
• ST Electronics (Info-Comm Systems) Pte Ltd Sponsorship
• ST Kinetics Scholarship
• Tan Ah Tat SAWL Scholarship for the Physically Disabled
• Tham Wai Him Scholarship